Benefits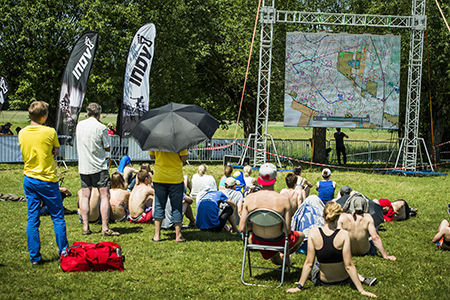 Our technology is particularly valuable during events that are difficult to show to audience because of long route or limited access for spectators. It works perfectly during running events, orienteering, adventure races, MTB and cycling competitions and many others. GPS-tracking is also a good alternative for TV broadcast which is usually expensive and shows only selected scenes. When using trackcourse.com you get a chance to follow each participant permanently from start to finish.
Spectators
GPS-tracking is mainly for spectators! When using live GPS broadcast they get a chance to follow the competition in real time without having to leave home. It is particularily important for events that are difficult to show using TV broadcast like ultramarathons, cross-country races, orienteering, MTB competitions or sailing races.
Media
Trackcourse.com allows everyone to follow the event even if its route is inaccessible for spectators and media. This means that live coverage from every competition is possible using GPS-tracking. What is more, the position of each participant is know in real time making it possible to use it in any kind of report or broadcast.
Sponsors
GPS-tracking is an excellent platform to promote sponsors and partners of each event. When watching live GPS broadcast spectators have constant contact with advertised content which gains positive image for spectators as being associated with sport event.
Participants
For participants GPS-tracking is about analyzing their performance after the race and comparing the results with other competitors. Also, we provide a free GPX track of every competitor available to download directly from event live tracking website.
Coaches
Live tracking allows choaches to have a constant insight into the competition which guarantees best communication with participants and provides most accurate information about the race. Furthermore, GPS-tracking is a perfect source of information for race analysis after the event which makes it easy to improve in future competitions.
Organizers
Using trackcourse.com is very important for the organizers, as they get permanent information about the competition. This allows them to make the right decsions during the event and mangage the event easily without having to wonder what is going on at the moment. Knowing the exact location of all participants increases their safety in case of any unusuall situations which is very important from organizers' point of view.